Mannarkoil J.Balaji
Mridangam Artiste, Tamil Nadu, India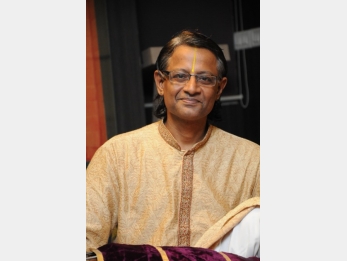 Biography
Mannarkoil J.Balaji is a well known Percussion artiste in the field of carnatic music, having experience in the art of playing mridangam for over 25 years.
Groomed from the age of 11 years, under the able tutelage of Tanjore Shri.R.Ramadoss and later under Ramanathapuram Late Shri.M.N.Kandaswamy, he possesses the unique advantage of having learnt this art under two giant schools viz., the Tanjore and the Pudukkottai schools of playing Mridhangam. (Tanjore Shri.R.Ramadoss was a disciple of Palghat Late Shri.T.S.Mani Iyer, a pioneer of Tanjore Tradition and Ramanathapuram Late Shri.M.N.Kandaswamy was a disciple of Palani Late Shri.M.Subramania Pillai, a pioneer of the Pudukkottai Tradition.) Learnt for about 5 years under Tanjore Shri.R.Ramadoss and for about 11 years under Ramanathapuram Late Shri.M.N.Kandaswamy. Presently he is undergoing advanced training in "Palani Style" under Shri.K.S.Kalidoss.
He holds an M.A. Degree in English Literature and Hindi Literature, with a PG Diploma in Journalism. He is well versed in Computer Applications and holds a diploma in it, and a certificate in Oracle.
He has been working for Reserve Bank of India since 1989, pursuing music alongside.
He is the Managing trustee of Palani Sri M Subramania Pillai Trust looking after the activities of the trust in Chennai and the temple activities at Pudukkottai Manpundia Pillai Shrine.
Shows & Major Performances
Performances:
Mannarkoil Balaji has been featured on stage with well-known and leading performers like Sangita Kalanidhis, Shri.T.Viswanathan, Shri.T.N.Krishnan Violin Solo, Shri.M.S.Gopalakrishnan, and other doyens. He has given more than 2500 concert accompaniments to various musicians and has been acclaimed world over for his soft and subdued support. Balaji has performed in all the sabhas in Chennai and for many renowned music organisations across the country.
He has been playing concerts since 1984 having accompanied leading artistes of the Music World. He has toured widely all over India and to countries like USA, Canada, Hongkong, Malaysia, Singapore, Indonesia, Estonia, London, Germany, South Africa, Japan and France.
Highly passionate about teaching and being adept in explaining the concepts, he has led a large number of lecture demonstrations and workshops on Laya, rhythm, for various organisations in India and abroad.
www.angelfire.com/mb/mridhangam is a first of its kind educative website Balaji has developed, to impart knowledge on all aspects of Mridangam, and it has details about the rhythm structure in South Indian Classical Carnatic Music. He has been contributing technical articles about Laya, for several magazines and websites, and has a flair for writing.
He also takes immense interest to clarify the doubts of rasikas and to educate them.
Press Reviews:
Mannarkoil J. Balaji (mridangam) embellished it further with his deft touches. B.S. Purushothaman (ganjira) did not lag behind, what with his feathery landings befitting a veena recital. 'Nee Chittamu' (Vijayavasantham-Adi-Tyagaraja) came in as an end-change bowler. Balaji was in his elements. Balaji and Purushothaman combined well to present a tani. (V.Balasubramaniam, THE HINDU, 12-6-2009 for G.R.S.Murthy's Veena Recital)
Beyond the technical intricacies of mridangam play, Mannarkoil Balaji brought to the accompanying method his understanding of the close relationship between sangatis of songs and relevant beats on the mridangam. That was the way he designed his laya contribution.
The tani with N. Rajaratnam (ghatam) represented his varied patterns of self-expression. (SVK, The Hindu, 14-8-2009).
Mannarkoil Balaji's mridangam revealed a style of play wedded to laya substance. There was, good balance between expertise and efficiency, in his thani. (The Hindu SVK-Review-7-5-2010)
And a lot more....
Contact:
Mannarkoil J Balaji
K 86, RBI Staff Quarters
Kamarajar Salai
K K Nagar
Chennai -600078
Mobile :+91.99620.30766
Mail: mridhangam@gmail.com
Awards & Recognitions
Asthana Vidwan of Kanchi Kamakoti Peetham
2006 he was blessed with the title of Asthana Vidwan of Kanchi Kamakoti Peetham
Best Mridangist
2007 he was awarded with the "Best Mridangist" by The Music Academy, Chennai
Meritorious Award for Excellence
2008 he was awarded the "Meritorious Award for Excellence" by the Maharajapuram Santhanam Foundation
Laya kala Vipanchee
2010 he was awarded "Laya kala Vipanchee" by Vipanchee organization of Dr.M.Balamuralikrishna
Gana Laya Praveena
2011 December he was awarded " Gana Laya Praveena" by Ganamukundhapriya an organization which promotes Music and Dance in Chennai
A graded artiste
An A graded artiste of the AIR and Doordarshan
Youth Association for Classical Music (YACM)
He was one among the four, who founded an association called "Youth Association for Classical Music (YACM)" in 1985

About
Sabhash
- Everything about classical music, dance, drama and a platform for inclusive entertainment
Sabhash.com is the one-stop destination for the latest news and information on the performing arts of India - classical music and dance, theatre, bhajans, discourses, folk performances, and other lesser known art forms. Institutions that revolve around the performing arts have exploded in numbers, and thanks to the Internet which has made information easily accessible, the number of rasikas has grown too. Corporate patronage has played a big part in increasing the world-wide reach of the Indian arts. Sabhash wishes to be a platform for inclusive growth giving an equal opportunity and recognition to not only the main performer but also the artistes who accompany them on stage, and the people who work backstage and play the role of unsung heroes.